Can Digg Apologize Its Way Back to Popularity?
Posted on October 12, 2010 at 18:45 PM EDT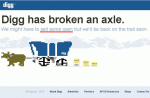 Digg's new CEO has written a blog post in which he apologizes for the missteps in the recent redesign, and promises to restore almost all the various features that die-hard Digg fans complained about losing. But can all this apologizing restore Digg to its former glory?