Is Your Carrier The Fanboy or The Underdog?
Posted on March 22, 2010 at 15:05 PM EDT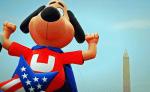 AT&T this morning confirmed it will carry Palm's webOS devices, in addition to Dell's Android-based Aero. Still, the network operator's strategy is all about the iPhone. Here's a quick breakdown of tier-one carriers' current strategies.